The Top 3 Myths about Assisted Living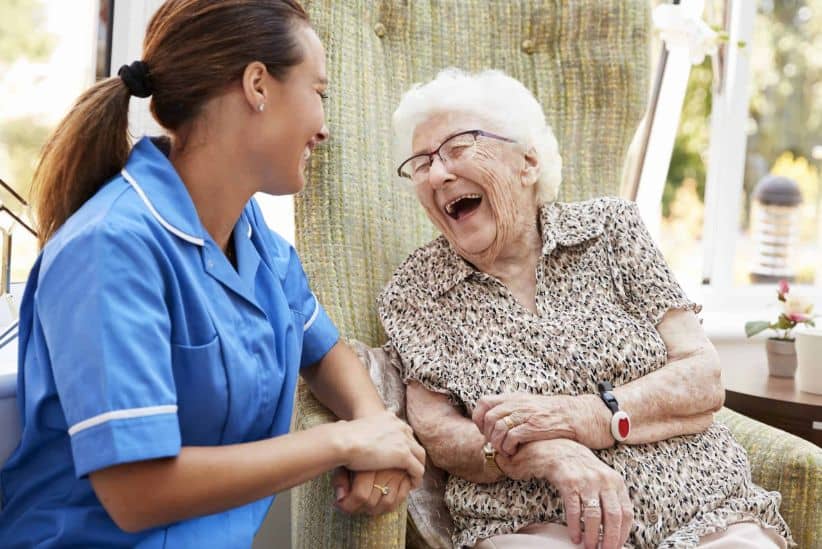 Don't let assisted living myths prevent you from finding the perfect North Dallas senior living community for yourself or a loved one.
Learning the facts behind myths about assisted living is a first step in finding a senior living community you will love! Read on as we demystify the three most common myths about assisted living.
Explore three common misconceptions about assisted living communities like Walnut Place.
Myth #1. There's No Difference Between Assisted Living and Nursing Homes.
Fact: Confusion with nursing homes is probably the most common myth about assisted living!
In senior living options, assisted living falls between independent living and nursing home or skilled nursing care.
Assisted living communities offer a maintenance-free senior living apartment, plus help with activities of daily living and life enrichment activities. They offer limited medical care.
Nursing homes are medical care facilities that also provide housing and some activities. The atmosphere is more like that of a hospital than a home or community.
At assisted living facilities, you'll find more personal care than you would at home or in an independent living community.
At Walnut Place, it all starts with your own private senior living apartment. Available in a variety of sizes and floor plans—from efficiencies to two bedrooms—our assisted living apartments in North Dallas come complete with a kitchenette and private bath.
You'll have ample room to make yourself at home! Bring your favorite furniture, cherished mementos, and decorative touches.
You can even bring a furry friend to keep you company, thanks to our pet-friendly policies.
All meals are covered in our all-inclusive plan. You can make personal menu selections every day from our chef-prepared menus. All meals are prepared under the direction of a Culinary Chef who won the Iron Chef DFW region for Compass Group.
Aside from mealtime, you can relax knowing you have 24-hour support with daily living activities. Our competent, caring and respectful staff provide:
Assistance with bathing and dressing.
Weekly personal laundry and bed linen service.
Weekly housekeeping service.
Scheduled transportation for medical appointment.
Emergency call light system in resident apartments.
Besides daily living support, we will help you stay active and healthy with a full calendar of educational, cultural, wellness and recreational events and activities tailored to our North Dallas senior living residents.
For more details on the range of services available in assisted living communities, check out this article from AARP.
Myth #2. Say Goodbye to Your Independence When You Move Moving to Assisted Living.
Fact: Loss of independence is a common fear among seniors. It only becomes a myth when applied to assisted living. In fact, one of the main goals in assisted living is to maintain and even increase residents' sense of autonomy.
Living in a maintenance-free assisted living apartment, you'll never have to cook, clean, cut the lawn or do any of chores involved in home maintenance again.
Help with bathing and dressing saves time and prevents falls. And help with bathing, dressing and grooming helps you look and feel your best.
With more free time, you can fill your days with what you love most. At Walnut Place, our North Dallas residents can choose from a wide variety of programs to enrich your quality of life, including:
Daily social activities.
Scheduled trips.
Shopping excursions.
Arts and crafts classes.
Exercise and wellness programs.
Games and recreational activities.
Spiritual services.
Enjoy the peace of mind from knowing that caring help is always there if needed.
Myth #3. I (or my Loved One) Will Hate Assisted Living.
Fact: This is another myth rooted in fear of the unknown. With proper preparation, there's no reason you or your loved one won't be thrilled with the atmosphere and amenities of an assisted living community like Walnut Place.
You spent your life building a career and taking care of your family. Isn't it time for you to relax and let someone else take care of you?
Everyone needs a little help with daily living activities as they age. You might feel embarrassed to ask family members, friends or neighbors for help. But in assisted living, staff are available around the clock to provide care services when you need and want them.
Assisted living delivers an enjoyable balance of safety, independence and opportunities to pursue friendships and interests.
It is not uncommon for many seniors to feel isolated and bored in single family homes.
According to the National Institutes of Health, research has linked social isolation and loneliness to health risks – and even death. Feeling lonely can contribute to high blood pressure, heart disease, anxiety, depression and cognitive decline.
At assisted living communities like Walnut Place, you'll only be alone if you want to be!
Our assisted living community offers many opportunities to build your social life. Scheduled programs such as exercise, games, crafts and outings help you stay active.
After they move in, most Walnut Place residents wouldn't want to be anywhere else!
Our assisted living community fosters an atmosphere of fellowship and camaraderie. Aside from our reputation, this is what sets our North Dallas assisted living community apart from other area senior living communities.
Find out whether you or a loved one will love living at our North Dallas assisted living community! Call (214) 396-4463 to schedule a virtual visit today!