Managing Memory Loss During the Holidays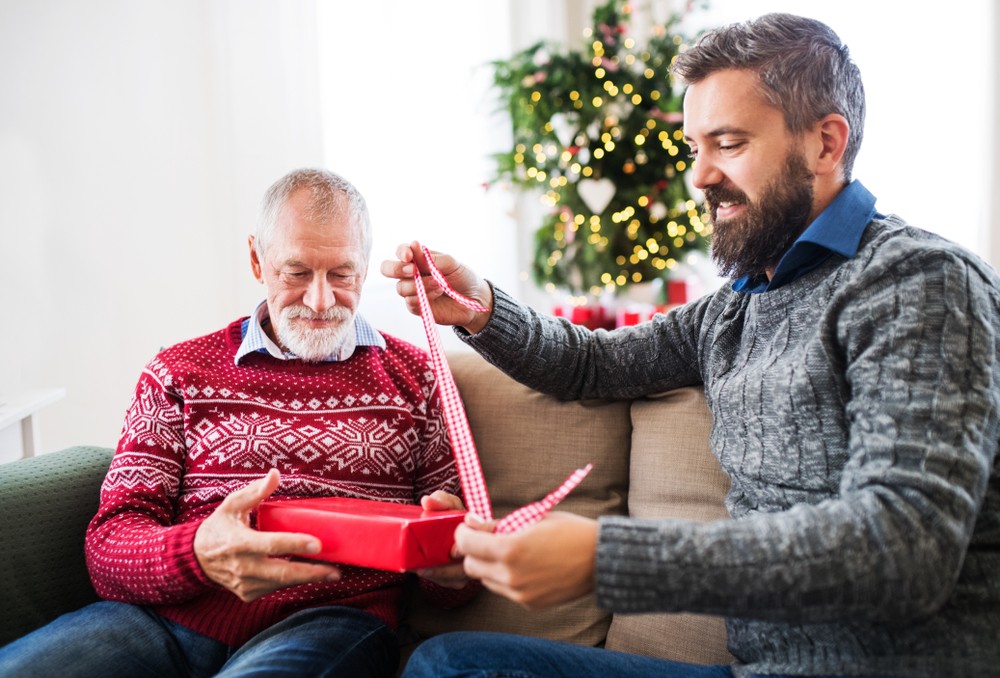 The holidays can be overwhelming for everyone. Shopping, decorating, baking, wrapping and celebrating… oh my! But for someone with memory loss due to Alzheimer's disease or other forms of dementia, the holiday hustle and bustle might be more than overwhelming — it can trigger agitation and confusion, as well. If you're concerned about how to help a loved one struggling with loss of memory enjoy the season's festivities, our list of suggestions can help.
Set the Mood
This is probably not the year for a dazzling display of lights or noisy get-togethers. Instead, cultivate an atmosphere of calm and safety. Here's how:
Stick to the usual routine. Predictable daily schedules help reduce stress and anxiety. As much as possible, follow your established schedule for waking, bedtime and meals.
Simplify decorations. Blinking lights and decorative displays that add clutter or change the look of familiar rooms can be disorienting. Tone down decorations to help prevent confusion and agitation.
Take safety precautions. Opt for battery-operated candles to avoid open flames. Reconsider using fragile decorations or décor that could be mistaken for edible treats, such as gingerbread cookies or faux fruit.
Keep gatherings small and intimate. A calm and relaxed celebration can help minimize confusion. Reserve a quiet corner for your loved one to retreat to alone or for quiet conversation with a guest. If you attend gatherings hosted by friends or family, be prepared to keep your visit short, or make sure there's a quiet place where your loved one can take a break.
Put time on your side. Schedule activities for the time of day when your loved one is less confused, typically earlier in the day rather than evenings when sundowning, or late-day confusion, may occur.
Choose Appropriate Activities
Your loved one may not remember — or be able to participate in — all your holiday traditions, but they will enjoy taking part in some aptly chosen festivities. Remember that you'll probably have to supervise their efforts and that the outcome is less important than the opportunity to spend time together.
Here are some ideas for activities that can help your loved one feel included and productive:
Bake cookies. A person with memory loss probably won't have the attention span for elaborate recipes, but they can help with certain parts of the process — like decorating sugar cookies — or you can choose simple, dementia-friendly recipes.
Have a singalong. Music can have a powerful and beneficial effect on people with dementia. Put on your loved one's favorite holiday tunes and encourage them to sing, clap or dance.
Make gifts or décor. Crafting is a great activity for all ages and abilities at any time of year. To keep your projects stress-free, choose simple activities that will give your loved one a sense of accomplishment.
Create a memory book. Gather photos into a binder or album, and include a brief caption under each photo. Flipping through the memory book can spark communication and help calm or distract your loved one if they're confused or agitated.
Set Realistic Expectations
If you're gathering with friends and family who haven't seen your loved one in a while, it can be helpful to prepare them for any changes in behavior and appearance. Gatherings will be more successful if visitors know what to expect and how to interact with someone with memory loss. Consider sharing the following:
Tips for communication. Let visitors know that reassurance and redirection are more effective than correcting or criticizing someone with memory loss. You might share some ideas for topics of conversation that your loved one tends to respond well to.
Describe symptoms. It's important for visitors to know that confusion or behavioral changes are symptoms of your loved one's condition and shouldn't be taken personally.
Adjust gift-giving traditions. The confusion and excitement of opening presents in a group may be too much for someone with memory loss. If people want to give your loved one gifts, suggest that it may be best to send gifts in the mail or leave them behind to be opened in a quiet moment.
Give Yourself the Gift of Self-Care
It's easy to lose sight of your own needs amid the holiday hubbub and the needs of your loved one. But taking care of yourself is a must if you're going to avoid burnout. Here are some tips to ensure that the holidays are enjoyable for you, too:
Ask for help. Let family and friends know that you could use some help with holiday tasks like shopping for gifts, mailing packages or addressing holiday cards.
Pare down your holiday to-do list. Focus on the holiday traditions that mean the most to you and give yourself permission to skip the ones that simply feel like chores.
Be honest. Friends and family may not realize how overwhelming the holidays can be for caregivers. Let them know that you may not be able to participate in some celebrations.
Schedule "me time." Ask a friend or family member to stay with your loved one while you take time to enjoy a meaningful holiday activity on your own.
Memory Care at Walnut Place
The memory care neighborhood at Walnut Place offers a warm, nurturing environment where residents with Alzheimer's disease or other forms of dementia enjoy familiar activities and uplifting interactions with caring staff. We also offer respite care, so your loved one can stay in our safe, welcoming community while you take time for some much-needed self-care. If you have questions about caring for your loved one, or are curious about the benefits of a community like ours, contact us. We'd be more than happy to answer your questions or help you schedule a visit.